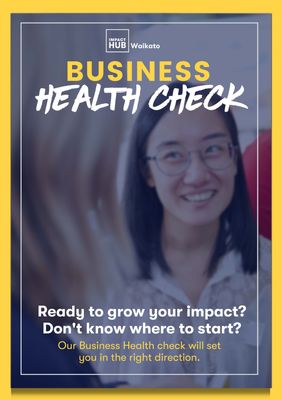 Business Health Check
$300.00
You know where you want to go. You know what success will look like. But, where do you begin? As an entrepreneur, there will always be areas where you lack the confidence or experience you need to achieve your goals.
Sometimes, all you need is someone to provide a little guidance.

Impact Hub Waikato's Business Health Check is specifically designed to help you identify your strengths and weaknesses, through a 360-degree diagnostic of your business. Our experienced consultants will guide you through the process - providing you with invaluable advice and support.

You will walk away with the confidence and insights you need to take the next steps toward achieving your goals.
How does it work?
You will be asked to provide insight into your business, including its successes and challenges, and your personal strengths and weaknesses
After reviewing your input, one of our experienced consultants will you will have a 1- on- 1 discussion with your consultant
We'll then create a tailor-made development plan, and deliver this to you
Plus, we'll have a follow-up conversation with you to go through the plan, clarify your next steps, and answer any questions you may have
Ready to GROW your business?
Take the first step on the journey to achieving your goals.
We are here to get you on your way!
Let's get started!
SKU: 10000